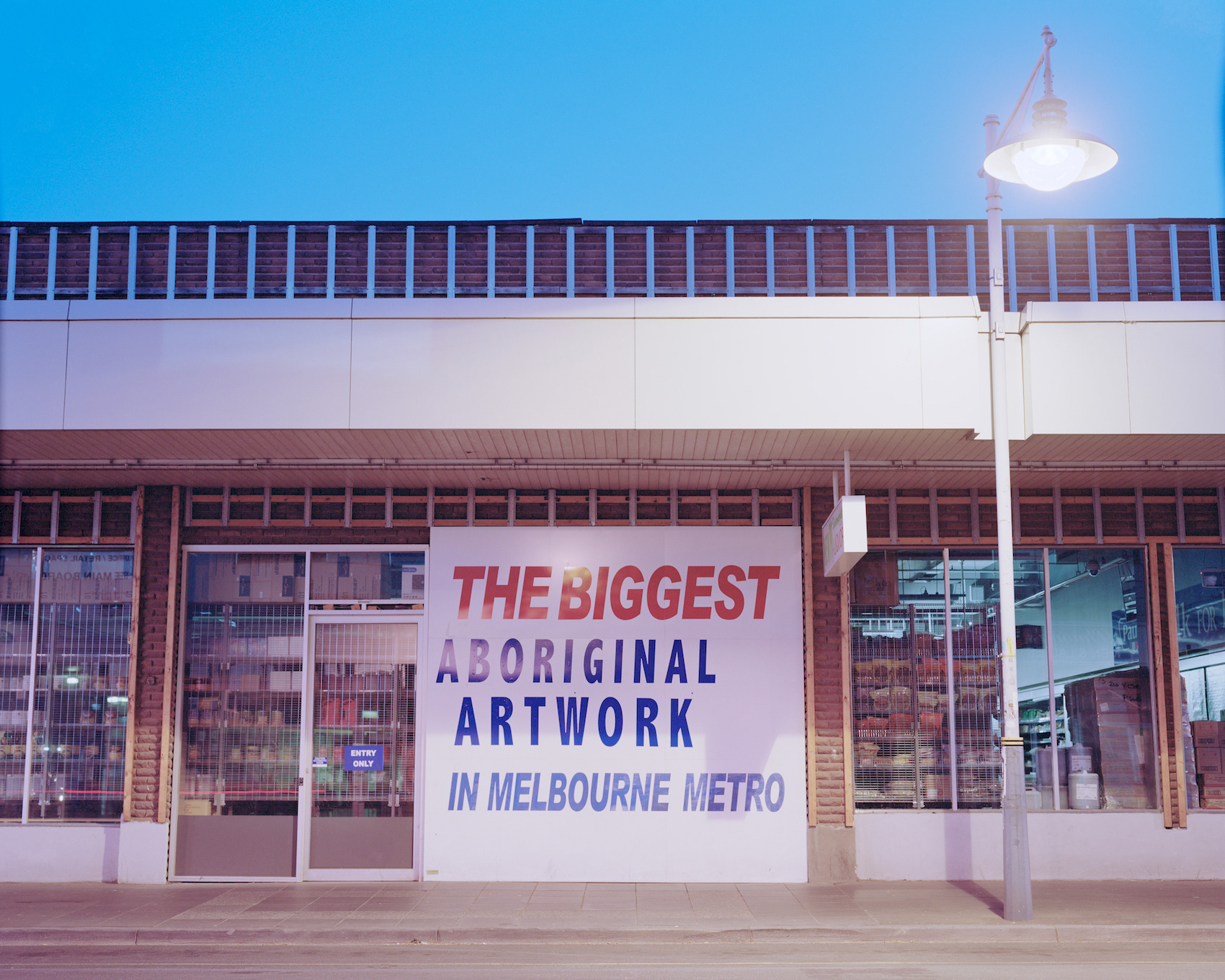 THE BIGGEST ABORIGINAL ARTWORK IN MELBOURNE METRO
Iteration one (as above) 
text, performance, installation. Paisley St Footscray (2014 – 2017)
Iteration two (as below)
synthetic polymer, vinyl, aluminium composite, wood, neon. 
361.0 x 386.5 x 100.0 cm (206 – 2017)
Inkjet print (as above)
61 x 49 cms
(edition of 10)
Inkjet Print  (as above)
140 X 114 cms
(edition of 5)
Iteration three: forthcoming
______________________
Is it THE BIGGEST ABORIGINAL ARTWORK IN MELBOURNE METRO ? Here, our subject is never revealed beyond the means of it's announcement. Once drawn into this space, the viewer can never leave via this 'works' indeterminability. 
This work also questions the idea of 'contemporary Indigenous art practice' and it's relationship to an Art canonista – the gallery, curator, museum, consumer and market. Extending this notion is the idea of an 'Indigenous art' canon. From palatable, economically-viable stereotypes, to forming part of an institution's strategy for survival, how are both the 'Indigenous art' canon and value determined with respect to 'Indigenous Art?' [Steven Rhall 2014]
___________________________________________
2014 – / Site responsive / Text / 

This work has been exhibited as a photographic print in various exhibitions and as it's second iteration (per below images) as part of the exhibition 'Sovereignty' at the Australian Centre of Contemporary Art in 2016 – 2017.