URLS to pertinent documents: 
URLS to slightly LESS pertinent support documents: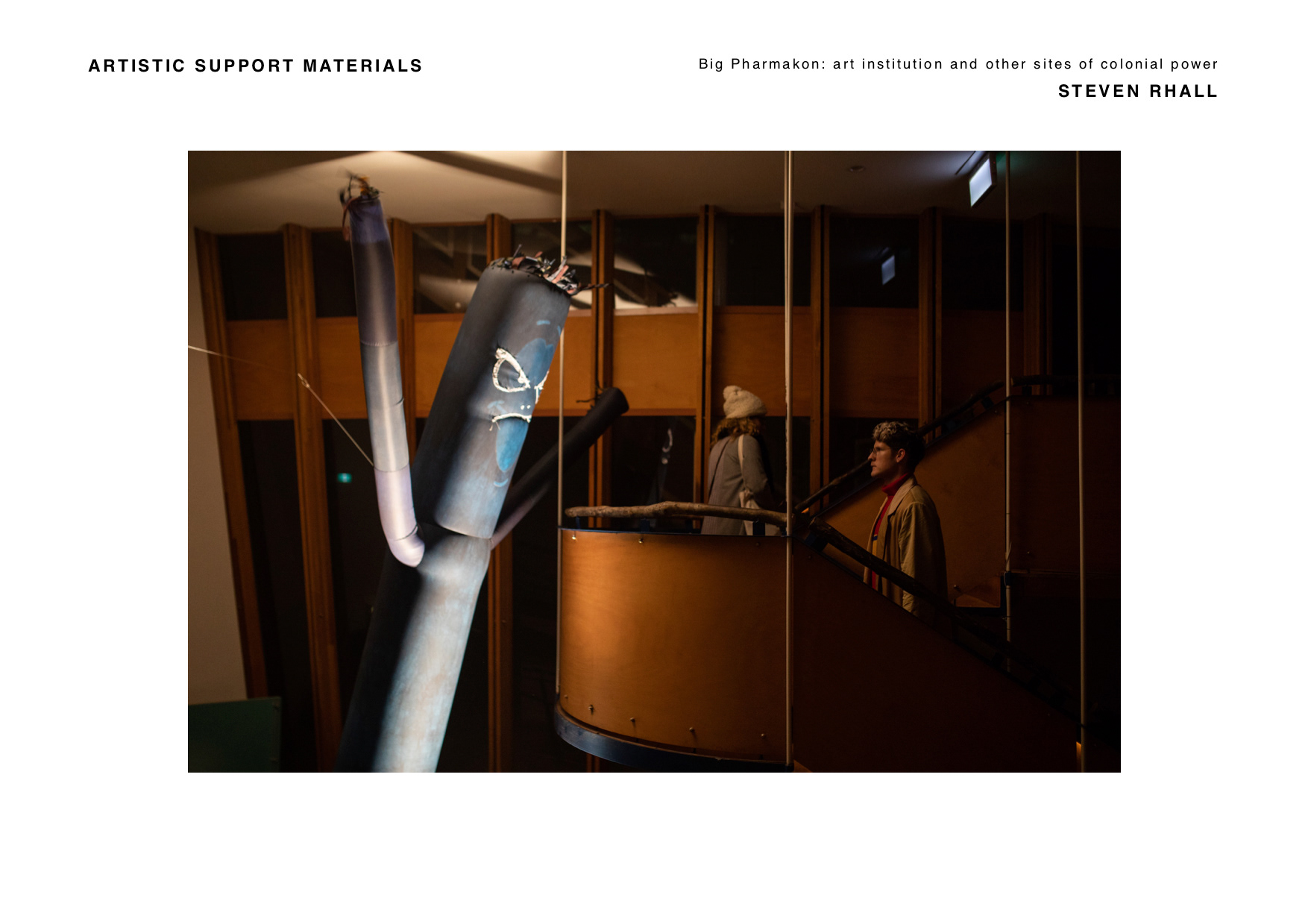 Evidence of Creative Victoria support assisting the growth of my practice can be seen with the Dark Mofo commission of this year. The 'Black body as Air Dancer' (of DAO) became 'Black body as Air Dancer - Bad Boi edition.' The Defunctionalised Autonomous Objects and first iteration was also acquired by the National Gallery of Victoria.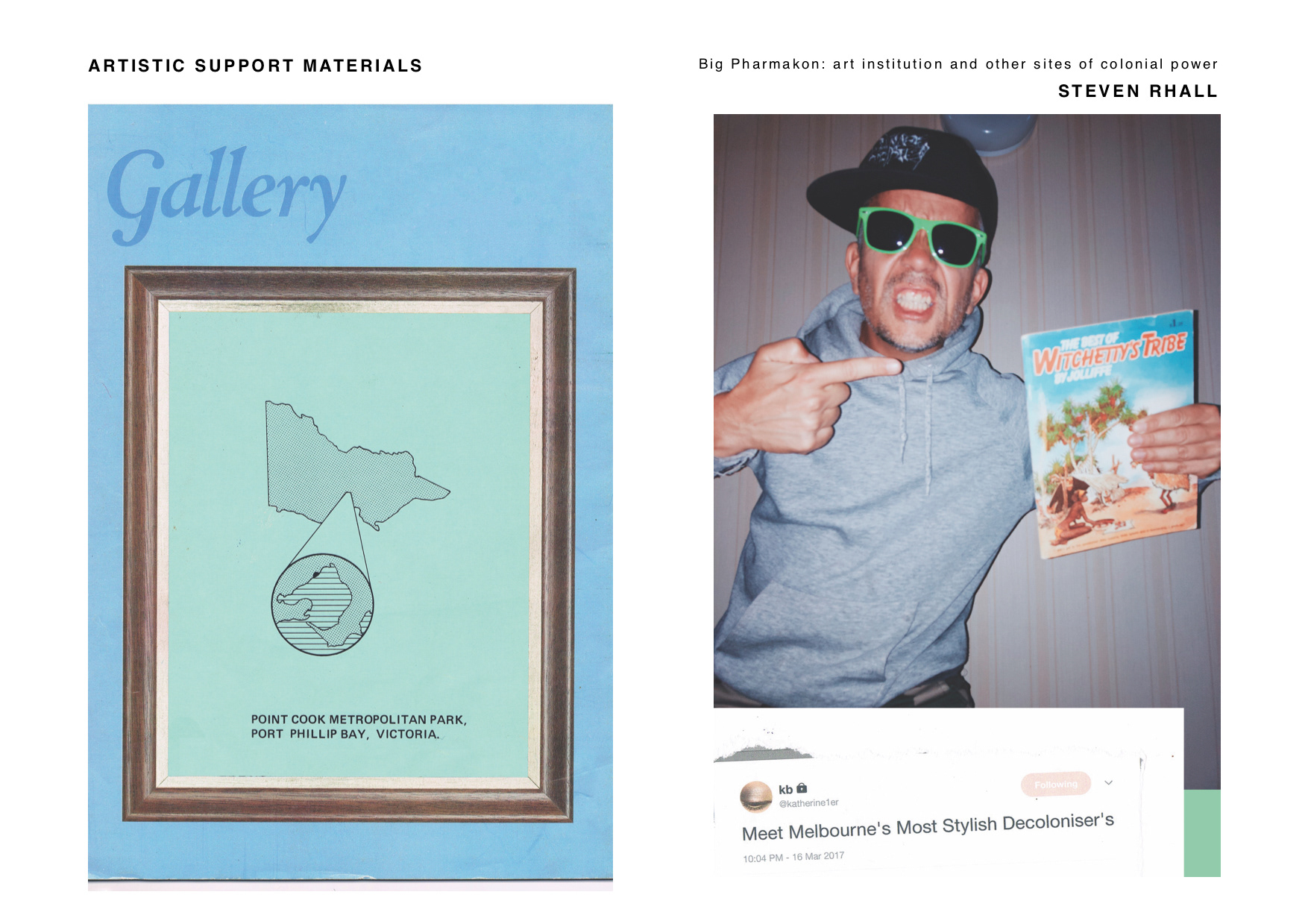 Two works from a UN magazine commission (full body of work via link further left) 'Gallery' and 'Corey' (l-r) explore ideas of the exhibition space and gallery as geographically and/or culturally located. 'Corey' as alter-ego also responds to ideas of performing identity, the inclusion of text at the works footer speaking to intersections commerce and cultural practice and questions of interdependency (within art).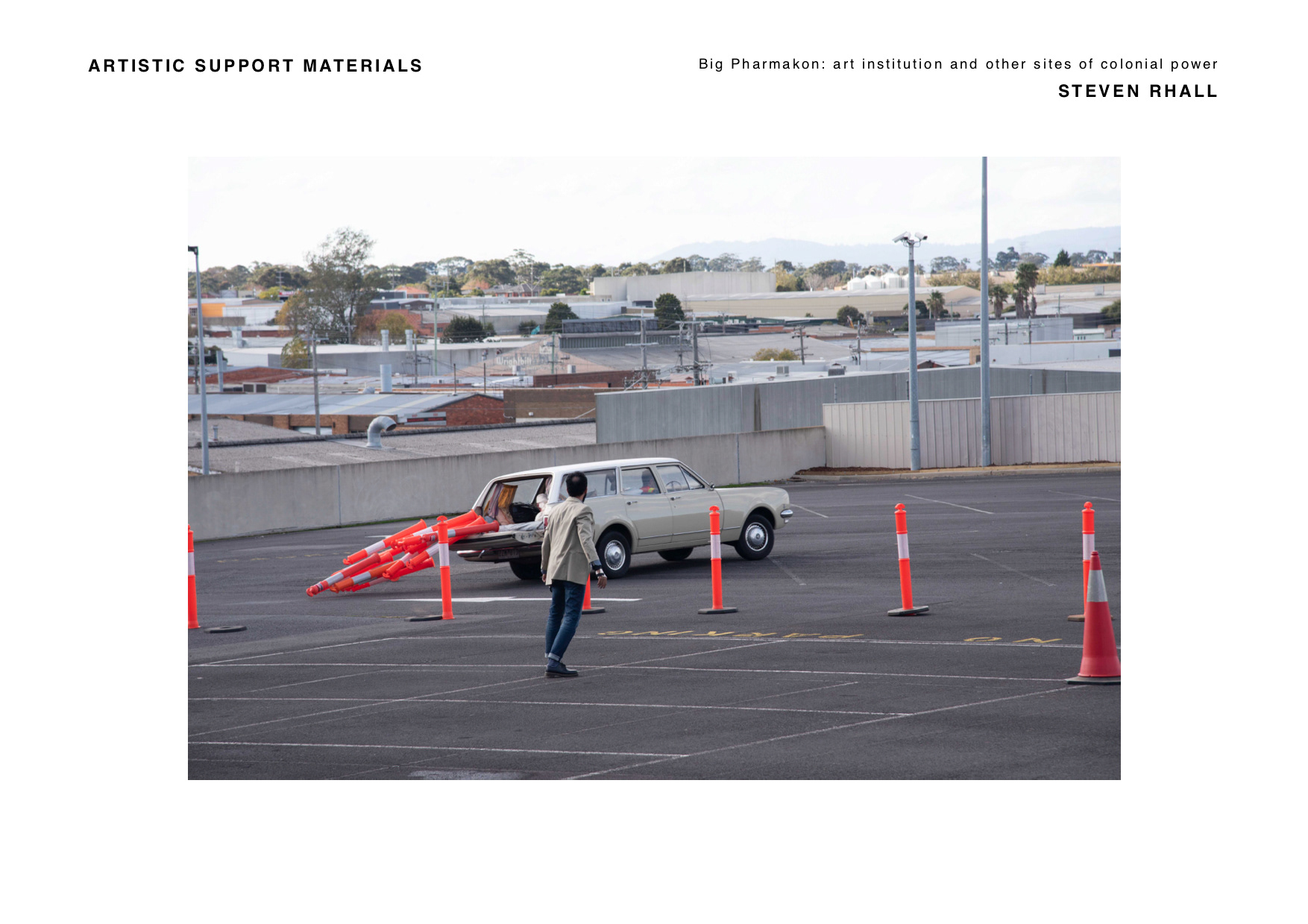 A scene from the 'Protest' work (Six Moments in Kingston 2019), shows Ezz Abdelmonem's character as one of three emerging artists I both collaborated and mentored for this performance and interdisciplinary based work. Keen in challenging myself and expanding my practice, this recent project confirmed to me the value of collaborative based, flexible and improvisational work.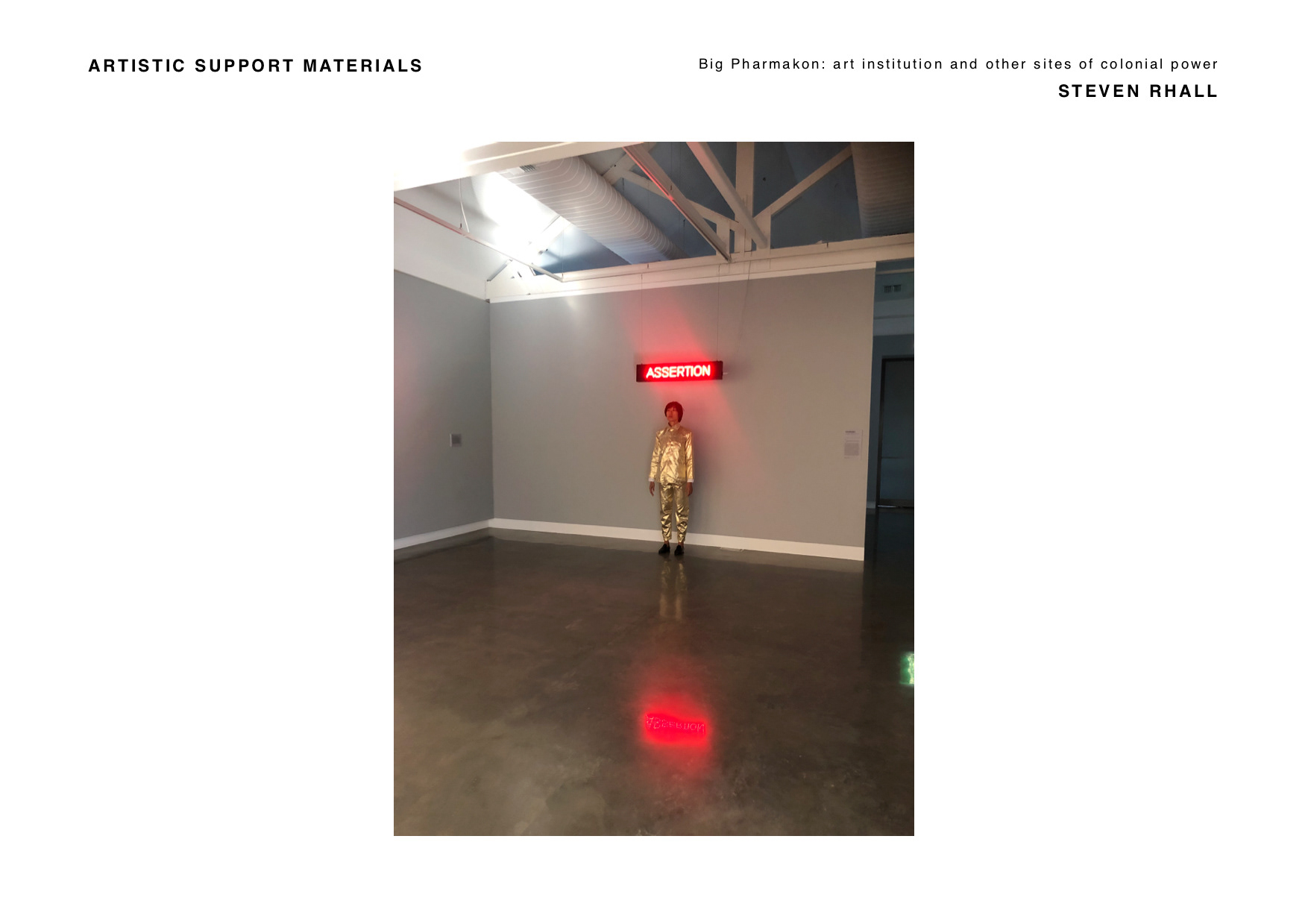 Documentation of artist Eugenia Lim performing in proximity to 'Every 1s a Winger (Bingo mode) in the Buxton Contemporary exhibition, 'National Anthem,' curated by Dr Kate Just.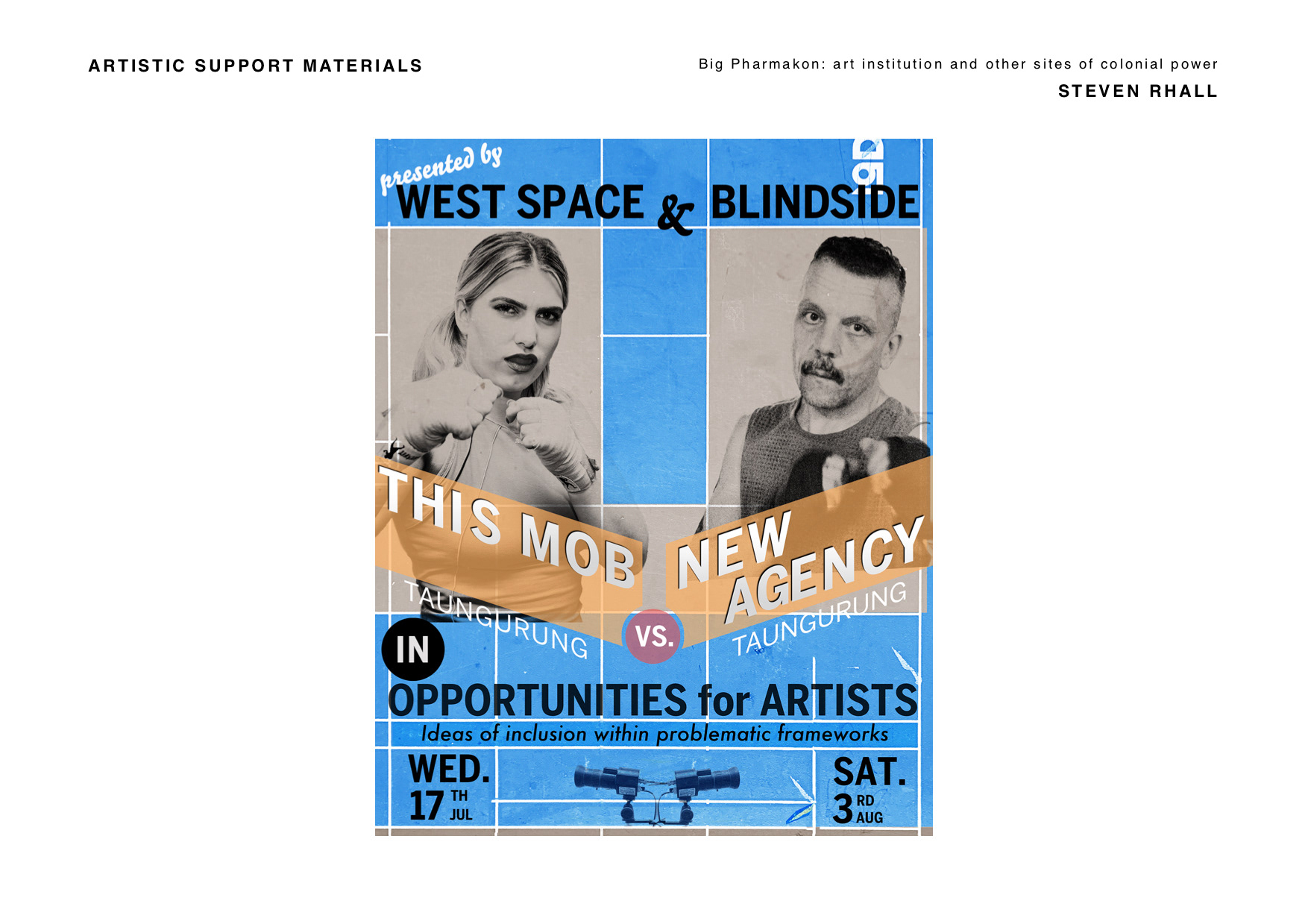 Part marketing object, part art object this image encapsulates the multi site and authored work 'Opportunities for Artists (idea of inclusion within problematic frameworks). This work came about from a 'quick response' opportunity where Kate Ten Buuren and I had been simultaneously been offered similar access to art spaces based on a shared cultural heritage. Our shared experiences within this opportunity making space had us reflecting upon cultural safety and load as part of such an exchange. Further... (see next slide below)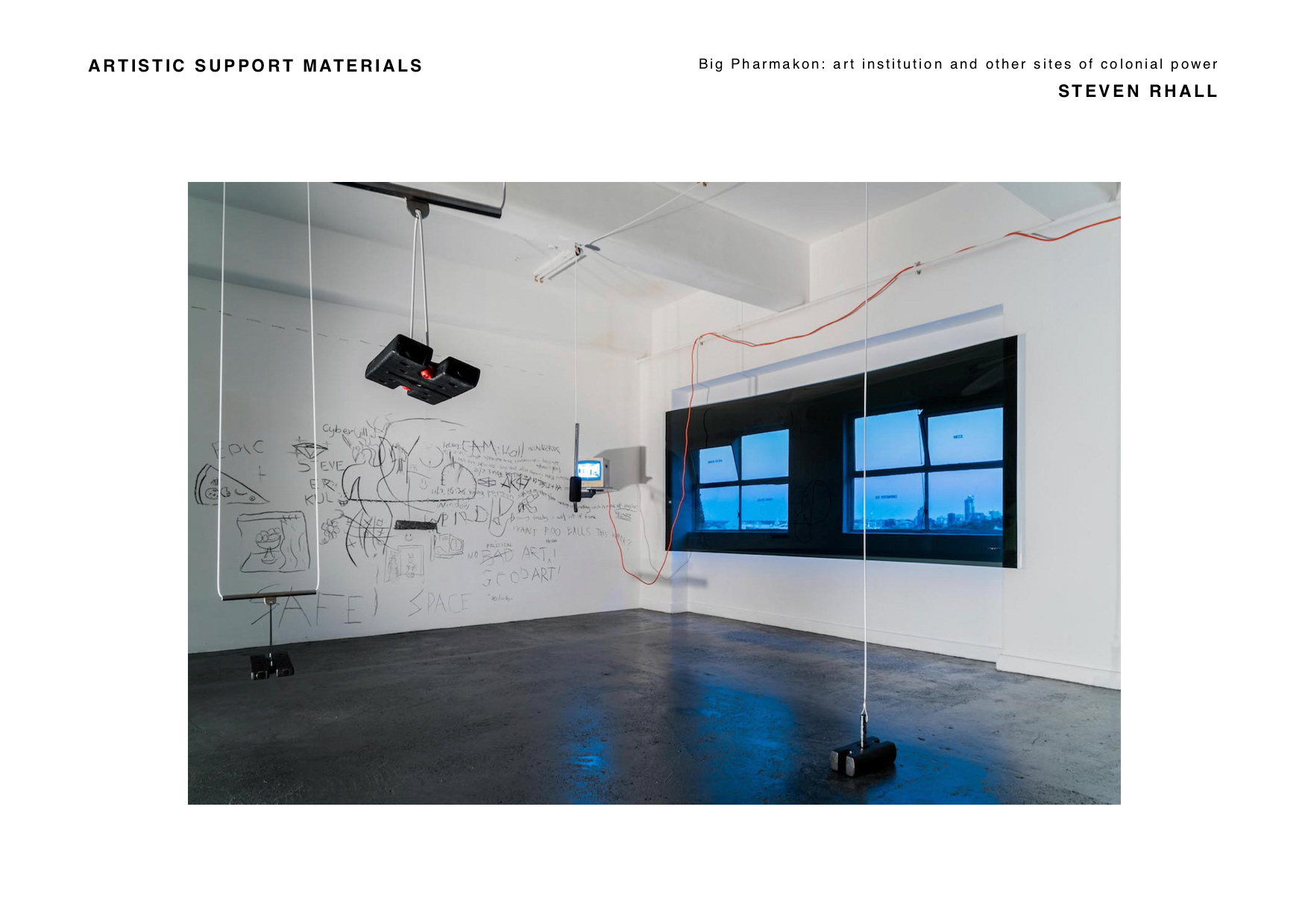 (continued from above)... and more broadly, the material response of the Blindside space (as left) also responded to wider institutional frameworks in the opportunities afforded to First Nation artists. The Blindside space became a figurative lens of the 'this mob' Westspace takeover and the 'activity' and occupation of that space. This involved 2 live video feeds from that space (with the artists there deciding upon what was shown or not shown), and audience participatory kinetic sculpture and drawing elements reflecting about labour and authorship within these spaces.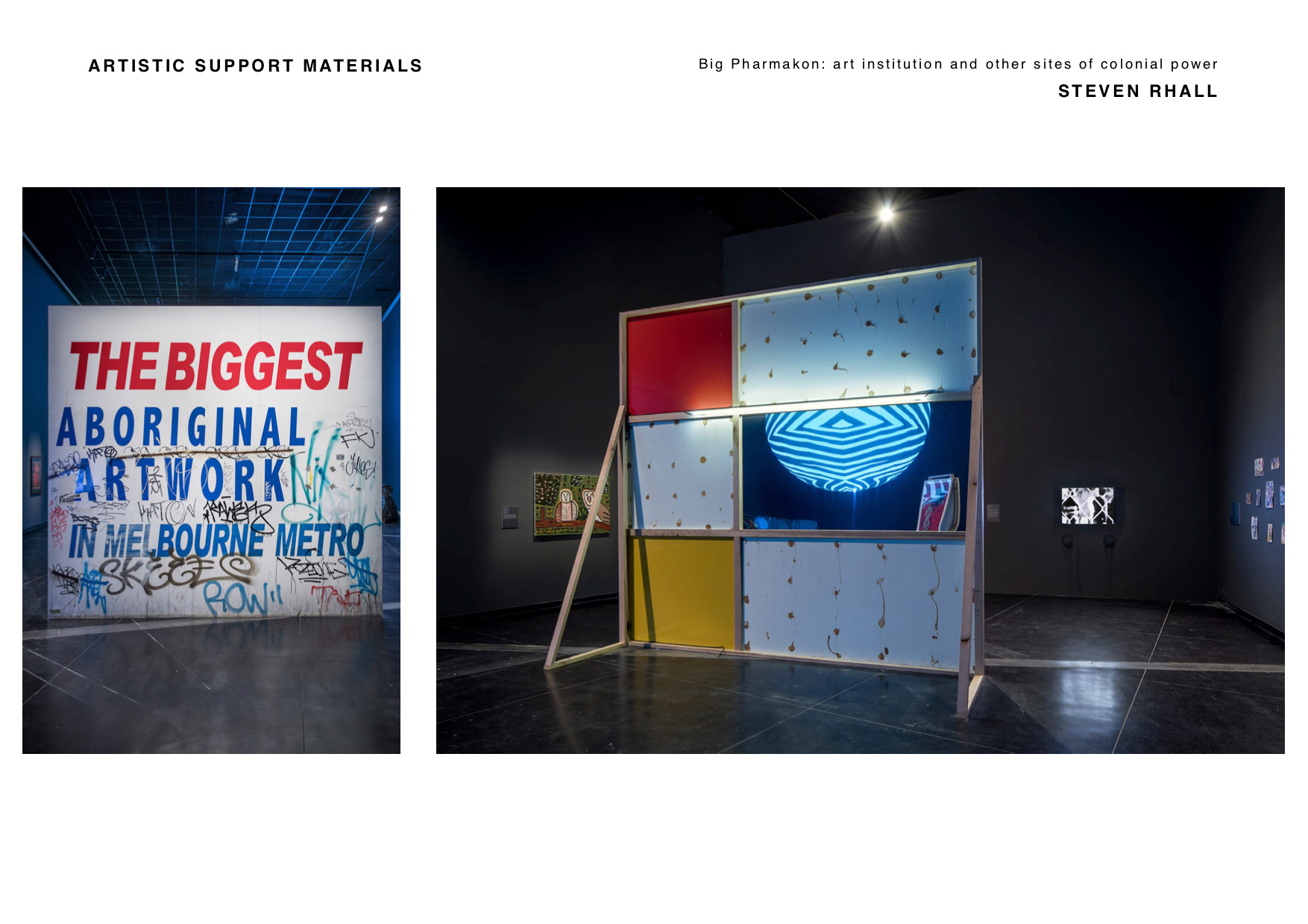 'THE BIGGEST ABORIGINAL ARTWORK IN MELBOURNE METRO'
synthetic polymer, vinyl, aluminium composite, wood, neon. 
361.0 x 386.5 x 100.0 cm (2016 – 2017)

(Iteration two ) in situ in 'Sovereignty' at ACCA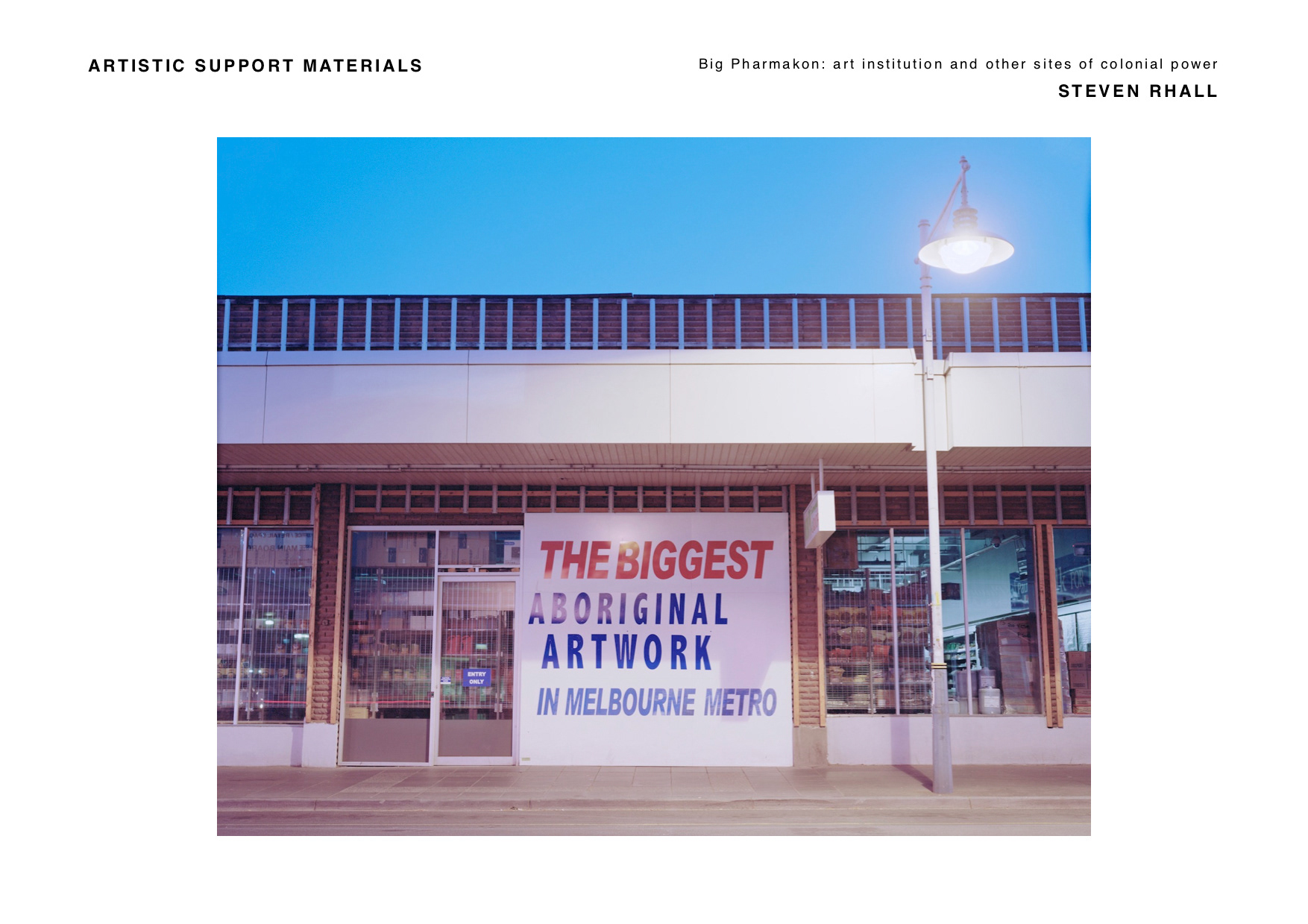 'THE BIGGEST ABORIGINAL ARTWORK IN MELBOURNE METRO'
Iteration one
text, performance, installation. Paisley St, Footscray (2014 – 2017)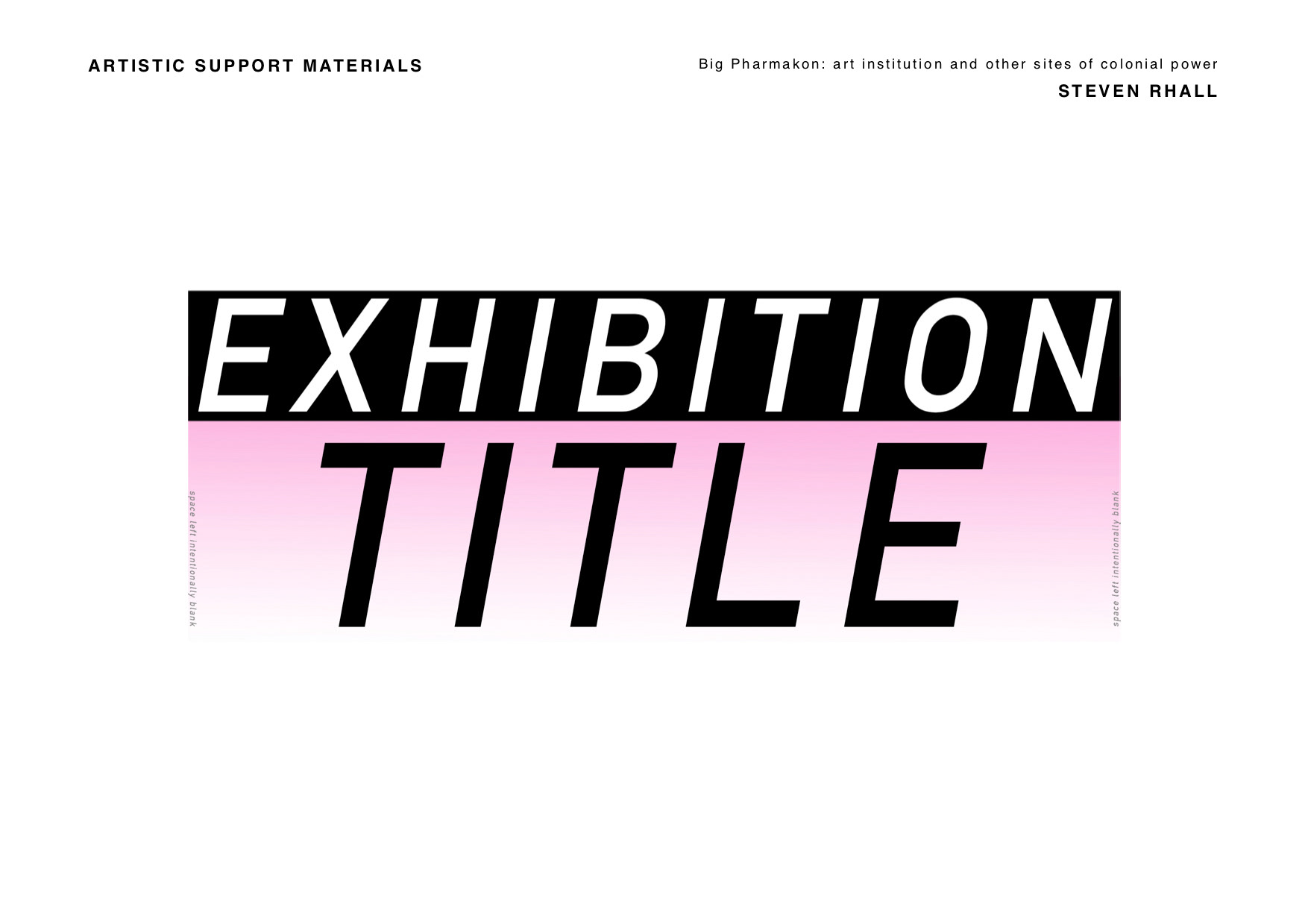 The image to the left announces the title of a curatorial project of the same name presented at c3 gallery in 2018. This work sits conceptually between DOA and Big Pharmakon in that it was an exercise in 'exhibition as form' however, denying the audience the ability to gaze upon the art by First Nation artists. Devoid of both didactic text (as sign post) and as presented as a segregated collective, this project drew upon ideas of how representation (in various ways may operate strategically for First Nation artists, positioning concept in the foreground of the work. This project involved collaboration by Jaye Early, Pierra Van Sparkles, Neika Lehman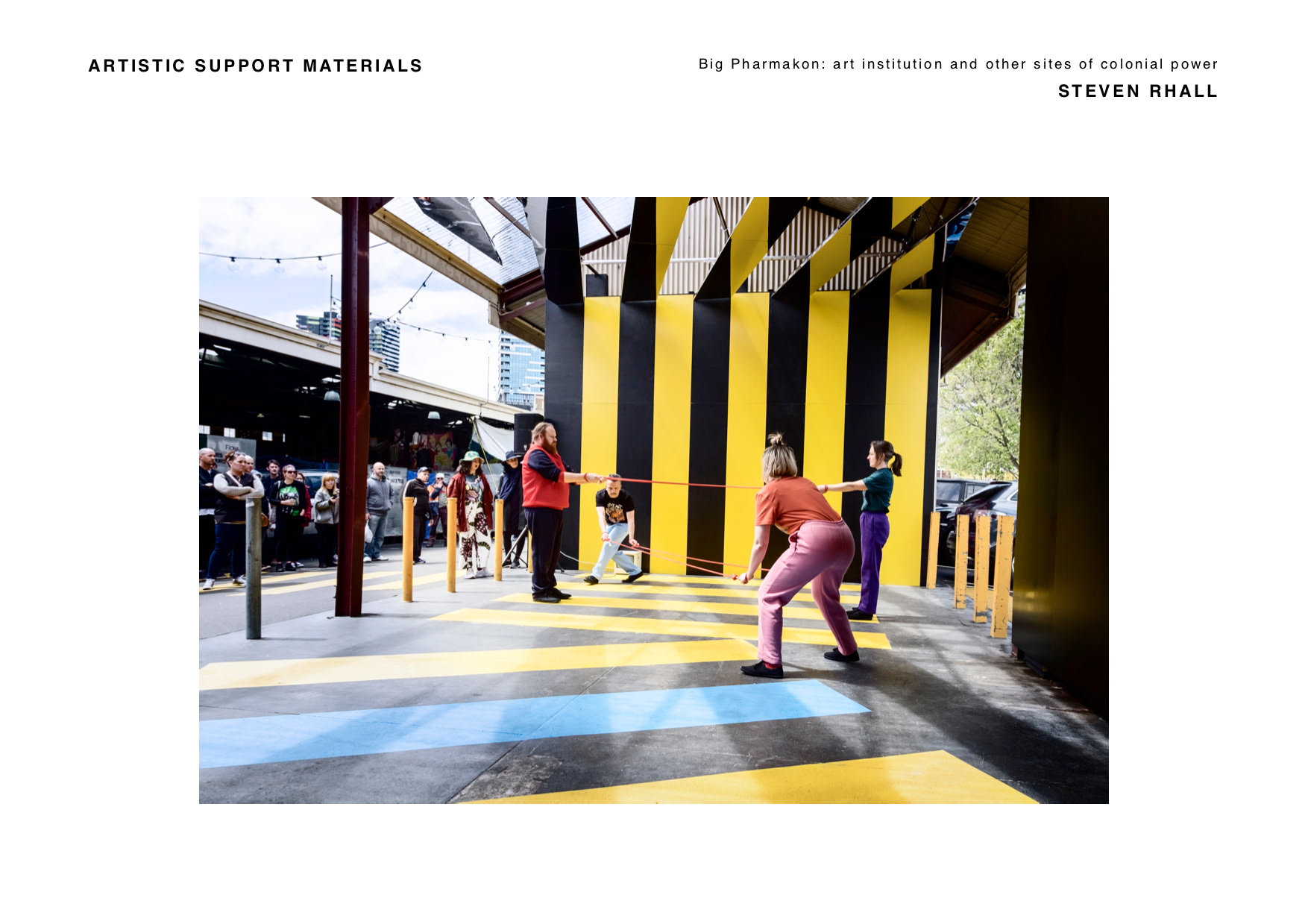 'Performance event' formed a formal and bodily based interface between the work it was performed within (Gesture (70 degrees East), New Day Rising)